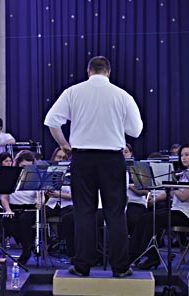 About the North Royalton Community Band
The North Royalton Community Band, located in North Royalton, Ohio (right outside of Cleveland), was founded in 1998 and has grown to become a well-rounded concert organization within a very short time. We celebrated our 100th concert in the winter of 2008 and are currently in our 25th year.
The band maintains an active performance schedule with four public concerts each year. These concerts are well received and our audience is growing. Prior to 2000, we took our music out to those who may not be able to attend our regular concerts with a series of ElderConcerts. These very popular performances were much sought after and eagerly attended. ElderConcert repertoire is selected to appeal to the senior set.
NRCB = ENTERTAINMENT
NRCB plays a wide variety of band music new and old, from marches to concert selections, overtures to folk music, Broadway to Bach, classics to contemporary. Our goal is entertainment in the rich tradition of community bands across the country.
SPECIAL PERFORMANCES
In the past, we performed combined concerts with community bands from Cuyahoga Community College, Fairview Park, Stronsville Community Band, and with the Cleveland Boy Choir.
At our performances, we have featured: brass, percussion and woodwind ensembles, flute and trombone sections and a Dixieland band. We have featured performances by soloists accompanied by the band, including: piano, xylophone, marimba, drum set, flute, clarinet, vocalist, trumpet, alto sax, f horn, bassoon, tuba and euphonium.
In our 2000 season, we performed the North American premier of "Sons of the Sun," by contemporary Argentine computers, Hugh Cambiasso.
Besides our own concert venues, we have performed to standing ovations in the community Christmas concerts at St. Albert the Great church in North Royalton, where we combined forces with church choirs from St Albert and others from the community.
Past performances include welcoming Santa at the North Royalton Fire Station and in such venues as Tri-C West Auditorium, the gazebo on the city green, Memorial Park and the beautiful amphitheater at the Cleveland Metroparks Zoo.
NRCB also hosted a community-wide Halloween party in the past co-sponsored by the City of North Royalton and with generous support from the Rotary and Kiwanis Clubs of North Royalton, and Friends of the North Royalton Library plus private donations.
"Music you know and love, performed by your neighbors and friends."